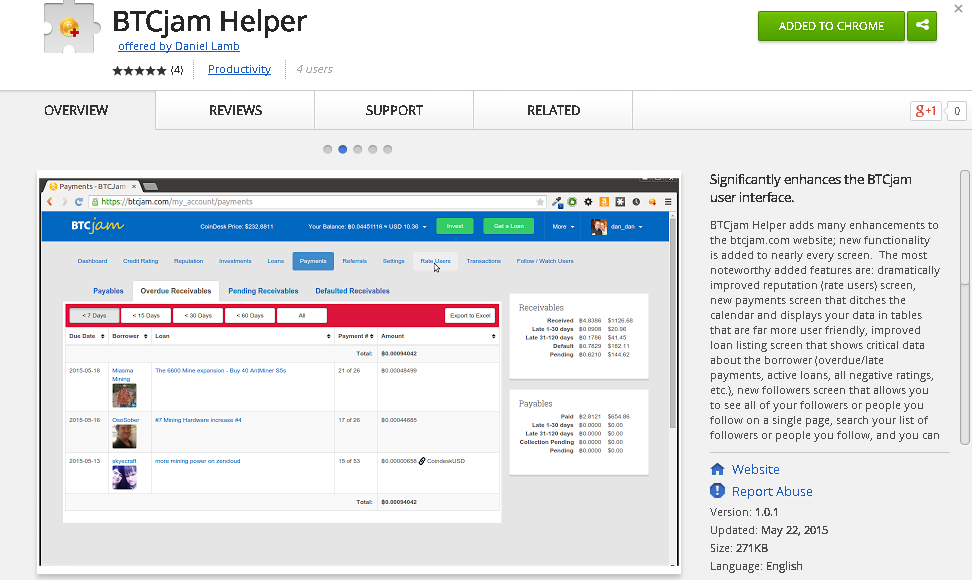 Significantly enhances the BTCjam user interface.
BTCjam Helper adds many enhancements to the btcjam.com website; new functionality is added to nearly every screen. The most noteworthy added features are: dramatically improved reputation (rate users) screen, new payments screen that ditches the calendar and displays your data in tables that are far more user friendly, improved loan listing screen that shows critical data about the borrower (overdue/late payments, active loans, all negative ratings, etc.), new followers screen that allows you to see all of your followers or people you follow on a single page, search your list of followers or people you follow, and you can also watch up to 10 users. Watching allows you to receive desktop notifications if a new loan or note is listed for a watched user - the extension will check btcjam.com at regular intervals for loans or notes, even if you are not logged in to btcjam.com!
A quick note about trust and security: BTCjam Helper makes investing easier, but it does not make investments for you, buy notes, or withdraw your Bitcoin. It will _never_ be able to touch any of your money. To prevent anyone from being able to do this, I strongly suggest you enable two factor authentication on BTCjam.com!
If you're having any problems at all, please email support@btcjamhelper.com!
Release notes: v1.0.1
Bug fix - Defaulted Receivables not displaying correctly
Added Funding in Progress to receivables totals on right side of payments screen.